You Don't Have to Take Our Word for It!

Here's what some of our satisfied customers have to say about Hans Imports: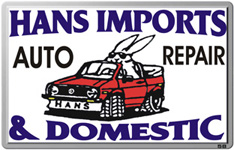 05/22/2023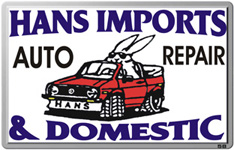 05/12/2023
Hans fixed what other mechanics wouldn't touch. He's very knowledgeable and I would recommend him to anyone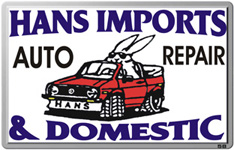 Import Cars & Trucks
10/14/2022
Omar and the Hans crew are always awesome, outgoing and very honest. Yes they might not be the cheapest place but u get what u pay for in the end. If u drive a euro car best place to go hands down will always recommend before any other shop. Very keen eye to detail and diagnosing issues and treats peoples cars like their own such as covering side panels to make sure your paint doesn't get damaged. I would definitely bring my car back to them! Thank u guys for everything and fitting me in to a really busy schedule.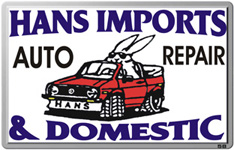 10/13/2022
Omar and his staff provide excellent service. Best around!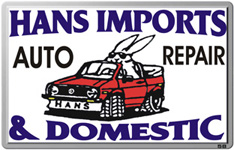 07/21/2022
Thank you for the great job you did on our 53 MG replica.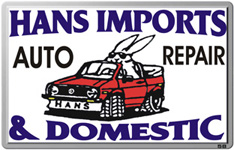 04/13/2022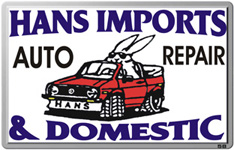 01/01/2022
Do you have a vintage VW? Why aren't you already servicing it here? Well you should be.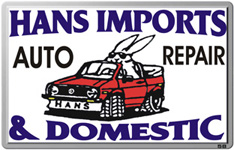 07/27/2021
I brought in a 2003 Volkswagon Jetta I had just bought in an attempt to clear the warning lights on my dash to get my car inspected and registered. I had all my expectations met and then some. Firstly they did just a general all around inspection to find other issues i might want to address and boy were there some issues. But they laid it out step by step with pictures and laid out a course of action to get my car in probably the best shape its been in years. Now this cars almost pushing 20 years old and 210,000 miles but you'd never know if you drove it today. The only downside I can think of was it did take a little longer than expected but then again I did drop my car off when they were slammed with other customers cars and my car had a laundry list of things to work on. But all in all my cars registered, inspected, and driving better than ever. I will be back to work on the smaller things suggested in his action plan that were not necessary for inspection. A few vacuum leak fixes and a brake fluid flush and my jetta will be on its way to my goal of 300,000 miles. Great Job Omar, Dave, and Sumner!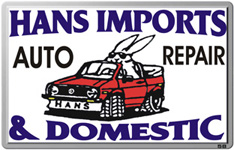 03/04/2021
Omar and his staff are excellent and honest, highly recommend!
Awesome! Awesome! Awesome! Service was well beyond what I expected. I brought my Porsche 911 in for some needed work. I don't leave my baby with just anyone but after an initial discussion it was obvious that the Hans Team knew Porsche. They gave me a detailed accounting of what needed to be done, the cost, performed the work flawlessly and the follow up was nothing short of amazing. I picked up the car on Friday and drove it a bit with delight. The follow up call on Monday from Hans to make sure I was satisfied with the work was the icing on the cake. I wish I could give them 6 stars!
I came to the shop after multiple tries on my own to source the correct part, and route cause of the issue with our 82 Vw Vanagon diesel not starting. Omar was kind enough to listen to the process I had taken up to that point and willing to extend his Knowledge and Wisdom to me regarding what steps he would take. Then he was able to source the starter and have it for me within a short time frame! Started the van yesterday and couldn't be happier with my experience at this shop! Omar I'll be seeing you soon for any other things with the Vanagon! Thanks for your knowledge and help!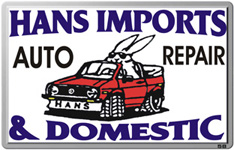 06/12/2020
Anyone who gives this business a poor rating undervalues thorough and thoughtful craftsmanship. You leave with your problem resolved and a far better understanding of the overall condition of your vehicle (at no additional cost despite what other reviews would say). Clearly passionate of their vocation and very knowledgeable.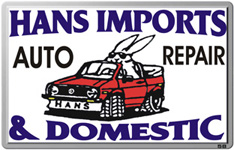 01/31/2020
Dave and Omar are great guys and they are very thorough in explaining any and everything I could ask or didn't know to ask. I don't trust anyone else to work on my VW. Thanks again!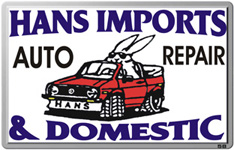 01/20/2020
An honest mechanic who gives great advice. Completely transparent and will take and send pictures of the problem areas.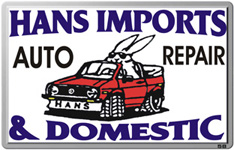 12/12/2019
Great important mechanic and very reasonable prices... Only the best will do! Go see Omar.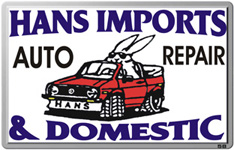 Omar impressed me with his BMW knowledge and attention to detail. They provided a very thorough diagnostic report with recommendations and their priority.' I was very pleased with the service and how they were able to do the repairs relatively quickly. Hans Imports exceeded my expectations.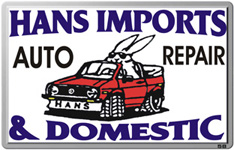 Omar and Dave are very thorough and knowledgeable about BMWs ! It's good to be working with folks who understand these cars and have the right equipment to service them. Thanks so much !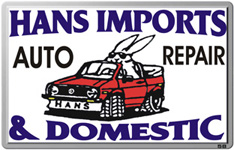 Trustworthy and professional auto care, can't ask for anything more!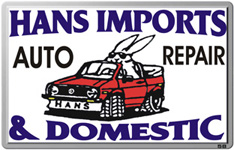 I have a 2007 e90 i Omar formulated a plan to systematically address the problems we went by his plan and all I can say this is the most honest bunch of guys I have ever worked with .They go out of there way to save you money & not take it from you. Want to run a successful business I strongly suggest this gentleman's business as a model Thanks Again Omar & the staff at Hans Imports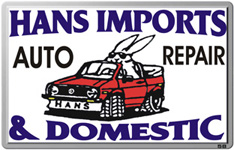 The service at Hans Imports is terrific. We've been a customer for about 11 years! They are detailed and they let you know what is happening with your car. I thank them very much and I appreciate all that they do!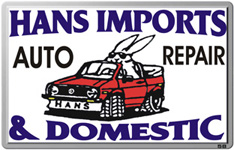 I drive a 1971 Volkswagen super beetle. I used to go to a different mechanic until my car developed a mysterious problem they couldn't fix after numerous tries. Another vw owner told me about Hans. From the moment I walked in the door I felt like a valued customer. My car kept breaking down and leaving me stranded until I took it to Omar and Dave at Hans Imports. What truly impressed me, besides the fact that my bug is running great and the problem is fixed, was their persistence and detective work to find the root cause and fix my car. Also, when Omar gives you an estimate on the cost of the repairs, the bill matches the quote. Whenever I call Hans, Sherri always answers the phone with a friendly greeting and makes sure my inquiries are taken care of. The main reason I would recommend Hans Imports is because they are reliable, trustworthy, and passionate about what they do. They truly care about satisfying their customers.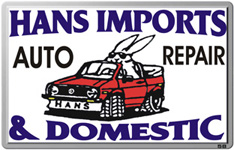 have been a customer of Hans Imports for a few years, and I am consistently pleasantly surprised by how easy they are to do business with. The explanation of what was done, as well as any suggestions for what should be scheduled is very comprehensive, and extremely helpful. Anyone I have ever dealt with (Omar, Sherrie, etc) has each provided exemplary customer service. The pricing is very fair, the work is done on time, and they have excellent communication. I look forward to continuing to take my car to them. I highly recommend them to others, as well.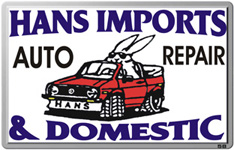 very friendly and courteous mechanic, knowledgeable mechanic. I recommend him highly to anyone. thank you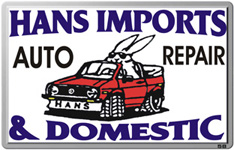 Great service. Thorough explanation. Great communication. Very professional. Highly recommended.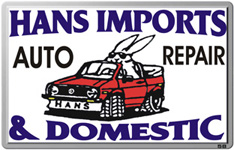 Great overall service!! Very good communication throughout the process. No surprises. Very knowledgeable and a pleasure to do business with.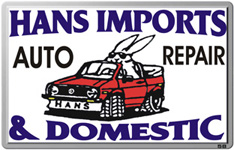 Omar and Dave impressed me with their professionalism, friendliness,and brand knowledge. They took care of some mysterious issues that had been bothering me on my 2002 BMW 325i. I was very relieved that the problems weren't as bad as I was fearing. They also did some routine maintenance and a really neat headlight lens restoration that makes them look brand new. I wish I had discovered these guys a long time ago.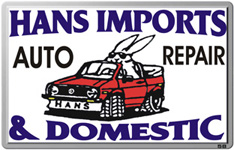 I was impressed you took the time to grease our doors..I had no idea they could be that quiet!!! lol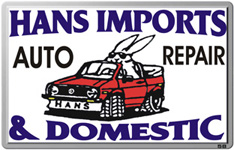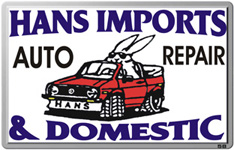 The work was completed courteously, promptly, and within the estimated cost.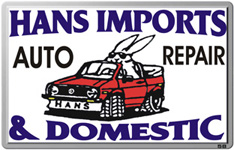 Thank you Hans Imports for making my 71 Bug safe to drive. The price was right and you were very thorough about what work was done and what to keep an eye on. I'll be back again!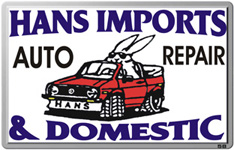 Courteous service. Repaired ahead of anticipated schedule, no problems.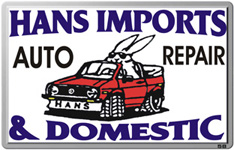 Just arrived back in CA. The bus handled great.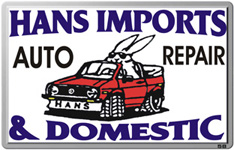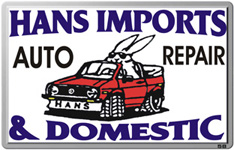 Appreciate how quickly you were able to take our vehicle in, assess the problem, and complete the repairs. Great follow through updating us as things progressed. Many thanks!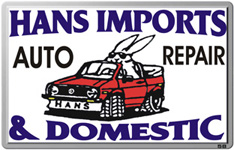 I really appreciate the repair of spedometer/odometer, in addition to the other work done. I also appreciate the report given upon completion of work which includes other work needed along with the description of work performed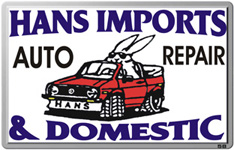 5 Stars. Great service. Very happy.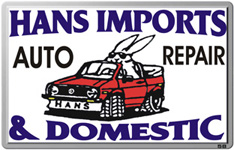 The service with Hans Imports was quick and professional. This is the time of service you cannot find in many businesses today. Thanks!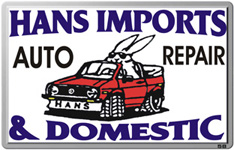 Service was excellent. See you next time I need something done.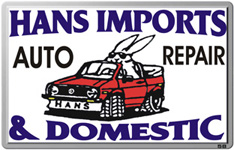 You always do high quality work, Omar. I am a nut with four cars, and I can't afford to fix any of them...times are tough. Hope things are going well for you guys. thanks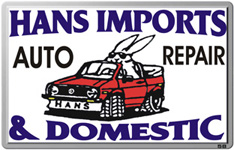 You guys did a great job...very professional. Although I no longer own the car, I have recommended you to several friends. Good luck.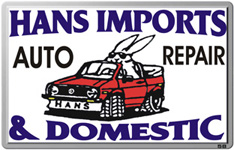 I have graduated from URI, so I won't be in the area anymore...but thanks for the service!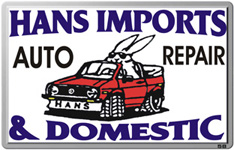 Fast, fair and honest. 3 traits missing in most repair shops these days. Thanks guys.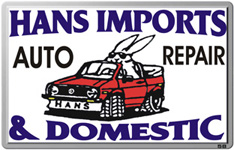 Unbelievable service. Omar and Dave went way above and beyond in servicing my aging Jetta wagon. Skilled, genuine, fair, they have earned all my future business.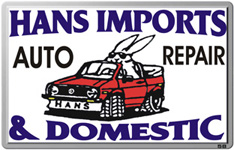 This is the best place by far that we have had our cars serviced. Great Job and a great staff.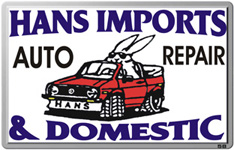 Mr.martin is diligent and precise in his diagnostic capabilities. Yes, I would recommend this business to a friend.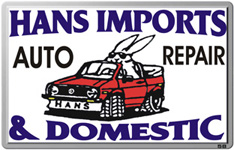 Yes and I have! (recommended this business to a friend). Get ready to do my fan in the next week,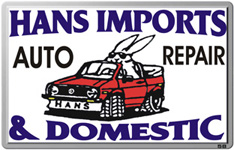 Meticulous and professional mechanics with excellent customer service. The repairs done to my Vanagon look like works of art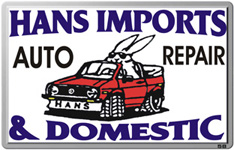 I appreciate your courtesy and the thoroughness of the information that you provide. All repair shops could learn from you!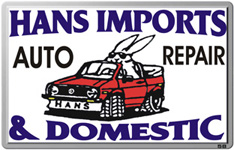 I had a very sick car...I didn't think it would ever be the same. By the time Hans Imports was done with it, it ran just like I remember it...quietly and smoothly. They are the best!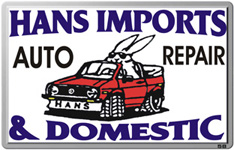 Great job. I will be back!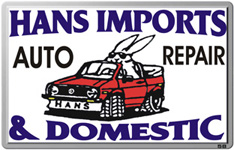 Hans was able to pinpoint all the issues our car was having, and prioritized the repairs.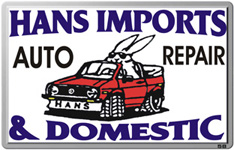 Thanks Omar. I'm never sure I will get the least expensive service, but always certain I'll get the most honest assessment and more careful repair.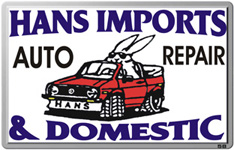 I am always very happy with the service I recieve from Omar & everyone who works in his business.
What our clients are saying about us
We have established longterm and stable partnerships with various clients thanks to our excellence in solving their automotive needs!
More Reviews

Excellent service.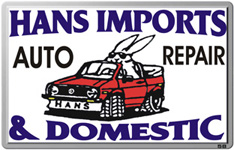 Hans fixed what other mechanics wouldn't touch. He's very knowledgeable and I would recommend him to anyone