Shocks
Shocks (or shock absorbers) are mechanical devices designed to smooth out rough roads. The devices do this by converting kinetic energy to another form of energy. Properly working shocks reduce the effect of traveling over rough ground, leading to improved ride quality and vehicle handling. When shocks develop problems, driving on poorly leveled roads becomes unpleasant, and your vehicle may sway when turning. To have your vehicle's shocks diagnosed and repaired, visit Hans Imports today.
Struts
Much like a shock absorber (shocks), your car's struts provide a dampening effect as you travel over a road's surface. By absorbing the shock of the road, struts allow passengers to ride in a car without constant and uncomfortable motion. Struts work a bit differently than shocks in that they provide structural support for your car's suspension. This means that struts support your car's weight, unlike shocks which only regulate the speed at which the weight is transferred. Struts usually last around 50,000 or 60,000 miles. This is simply because the damping characteristics of the parts gradually deteriorate over time. Call Hans Imports at 401-295-7785 if you have questions about the struts on your car. Our expert technicians will diagnose any problems and help you make an informed decision about repairs.
What our clients are saying about us
We have established longterm and stable partnerships with various clients thanks to our excellence in solving their automotive needs!
More Reviews

Excellent service.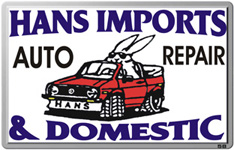 Hans fixed what other mechanics wouldn't touch. He's very knowledgeable and I would recommend him to anyone